Persistence and Retention
Fall 2020 Beginning Postsecondary Student Cohort
June 28, 2022
​
Seventy-five percent of students who started college in the first fall of the COVID-19 pandemic returned for their second year. This persistence rate represents a one-year increase of 1.1 percentage points but has yet to recover to the pre-pandemic level in this important early student success indicator.
The Persistence and Retention report series examines first-year persistence and retention rates for beginning postsecondary students. Persistence rate is measured by the percentage of students who return to college at any institution for their second year, while retention rate represents the percentage of students who return to the same institution. Students attaining a credential in their first year are accounted for in persistence and retention rates. The report is designed to help institutions understand trends and patterns in this important early success indicator, and identify disparities by institutional type, state, degree level, starting enrollment intensity, major field, and student demographic characteristics such as age, gender, and race and ethnicity.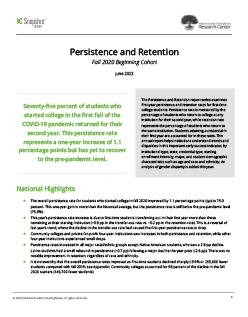 National Highlights
The overall persistence rate of 75.0 percent represents a one-year gain of 1.1 percentage points (pp), more than the historical average, but the persistence rate is still below the pre-pandemic level (75.9%).
The latest persistence rate gain is due to first-time students transferring out in their first year more than those remaining at their starting institution (+0.9 pp in the transfer-out rate vs. +0.2 pp in the retention rate). This is a reversal of last year's trend, where the decline in the transfer-out rate had caused the first-year persistence rate to drop.
Community colleges and private for-profit four-year institutions have led this year's improvement. Other four-year institutions experienced small drops in both rates.
Latinx students had a small rebound in persistence (+0.7 pp) following a major decline the year prior (-2.6 pp). Persistence rates increased in other major racial/ethnic groups except for Native American students, who saw a 2.8 pp decline. There was no notable improvement in retention, regardless of race and ethnicity.
The overall persistence rate improved as first-time students declined sharply (-9.9% or -255,000 over last year). Community colleges starters accounted for 58 percent of this decline (-146,700).