By the end of year four, 40.5 percent of individuals who began college in fall 2010 as full-time degree-seeking students had completed a postsecondary credential, while 24.5 percent were no longer enrolled. By the end of year six, 61.1 percent had graduated, while 28.5 percent had left college without earning a credential.
read more
View All Research Reports
The Research Center regularly publishes reports on student access, student mobility, credential attainment, and enrollment trends. These reports are based on student-level data provided exclusively to the National Student Clearinghouse by our nationwide network of postsecondary institutions. The reports are to benefit and better inform the educational community, policymakers, community leaders, and others. Click on a report series below to view the reports within that series.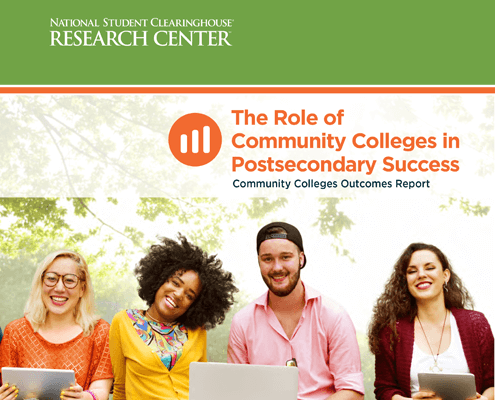 The Role of Community Colleges in Postsecondary Success
The Community Colleges Outcomes Report, "The Role of Community Colleges in Postsecondary Success," provides recent report findings from the National Student Clearinghouse Research Center on two-year colleges. Key community college metrics are provided for three areas — college access and persistence, transfer and mobility, and certificate and degree completion – which are important indicators of community college progress.