Persistence and Retention
Seventy-four percent of first-time freshmen in fall 2019 returned to college for their second year. This rate represents a pandemic-related, unprecedented one-year drop of two percentage points in this important early student success indicator.
The Persistence and Retention report series examines first-year persistence and retention rates for beginning postsecondary students. Persistence rate is measured by the percentage of students who return to college at any institution for their second year, while retention rate represents the percentage of students who return to the same institution. Students attaining a credential in their first year are accounted for in persistence and retention rates. The report is designed to help institutions understand trends and patterns in this important early success indicator, and identify disparities by institutional type, state, degree level, starting enrollment intensity, major field, and student demographic characteristics such as age, gender, and race and ethnicity.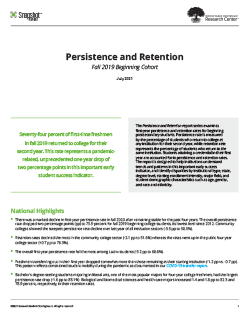 National Highlights
There was a marked decline in first-year persistence rate in fall 2020 after remaining stable for the past four years. The overall persistence rate dropped two percentage points (pp) to 73.9 percent for fall 2019 beginning college students, its lowest level since 2012. Community colleges showed the steepest persistence rate decline over last year of all institution sectors (-3.5 pp to 58.5%).
Retention rates declined the most in the community college sector (-2.1 pp to 51.6%) whereas the rates went up in the public four-year college sector (+0.7 pp to 76.3%).
The overall first-year persistence rate fell the most among Latinx students (-3.2 pp to 68.6%).
Freshmen transferring out in their first year dropped somewhat more than those remaining at their starting institution (-1.2 pp vs. -0.7 pp). This pattern reflects constrained student mobility during the pandemic as documented in our COVID-19 transfer report.
Bachelor's degree-seeking students majoring in liberal arts, one of the most popular majors, had the largest persistence rate drop (-1.6 pp to 88.1%). Biological and biomedical sciences and health care majors increased 1.4 and 1.8 pp to 82.3 and 78.9 percent, respectively, in their retention rates.