Undergraduate Degree Earners 
The number of students earning an undergraduate credential each year continued to increase from 3.4 million in 2012-13 to 3.7 million in 2018-19, representing a seven-percent growth over the past six years.
The steady increase was largely fueled by traditional college-age graduates (age 24 or younger) and graduates who had previously earned a postsecondary credential. As a result, adult learners and first-time graduates decreased as a share of all undergraduate degree earners.
The number of first-time graduates grew at only one-sixth the rate of the number of students earning stacked undergraduate credentials over this period.
The Undergraduate Degree Earners report series, published annually, provides a demographic and educational profile for all students graduating with an undergraduate credential each year. Undergraduate credentials may include associate and bachelor's degrees and certificates. In the current report, we profile graduates in the 2018-19 academic year, with a focus on first-time versus non-first-time graduates, and changes in demographics and education credentials received over the last six academic years, since 2012-13. The report highlights select findings and the Appendix provides the national profiles of undergraduate degree earners by age and type of credential received, in addition to comparisons by state and region.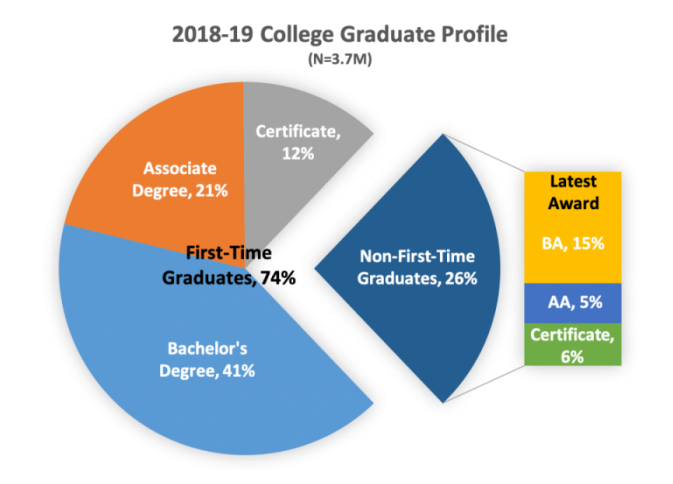 Data for 2012-2017 are revised and differ from those shown in past editions of this report. Revision reflects newer and additional data reported to the Student Clearinghouse since publication.