Current Term Enrollment Estimates
Higher education enrollment fell to new lows this spring, showing the persistent impact of COVID-19 related disruptions. Overall spring enrollment fell to 16.9 million from 17.5 million, marking a one-year decline of 3.5 percent or 603,000 students, seven times worse than the decline a year earlier. Undergraduate students accounted for all of the decline, with a 4.9 percent drop or 727,000 students. In contrast, graduate enrollment jumped by 4.6 percent, adding more than 124,000 students.
While every institution sector saw undergraduate enrollment dip this spring, community colleges remain hardest hit (-9.5% or 476,000 fewer students). Over 65 percent of the total undergraduate enrollment losses occurred in the community college sector.
Among all age groups, traditional college-age students declined the most (-5%, age 18-24), largely attributable to their steep losses at community colleges (-13.2%). Adult students (25 or older), on the other hand, show a 2 to 3 percent gain at public four-year and private nonprofit four-year colleges.
Enrollment among male students continued to fall more steeply than female students (400,000 fewer male students and 203,000 fewer female students compared with last spring).
Percent Change in Enrollment from Previous Year by Institutional Sector: 2017 to 2021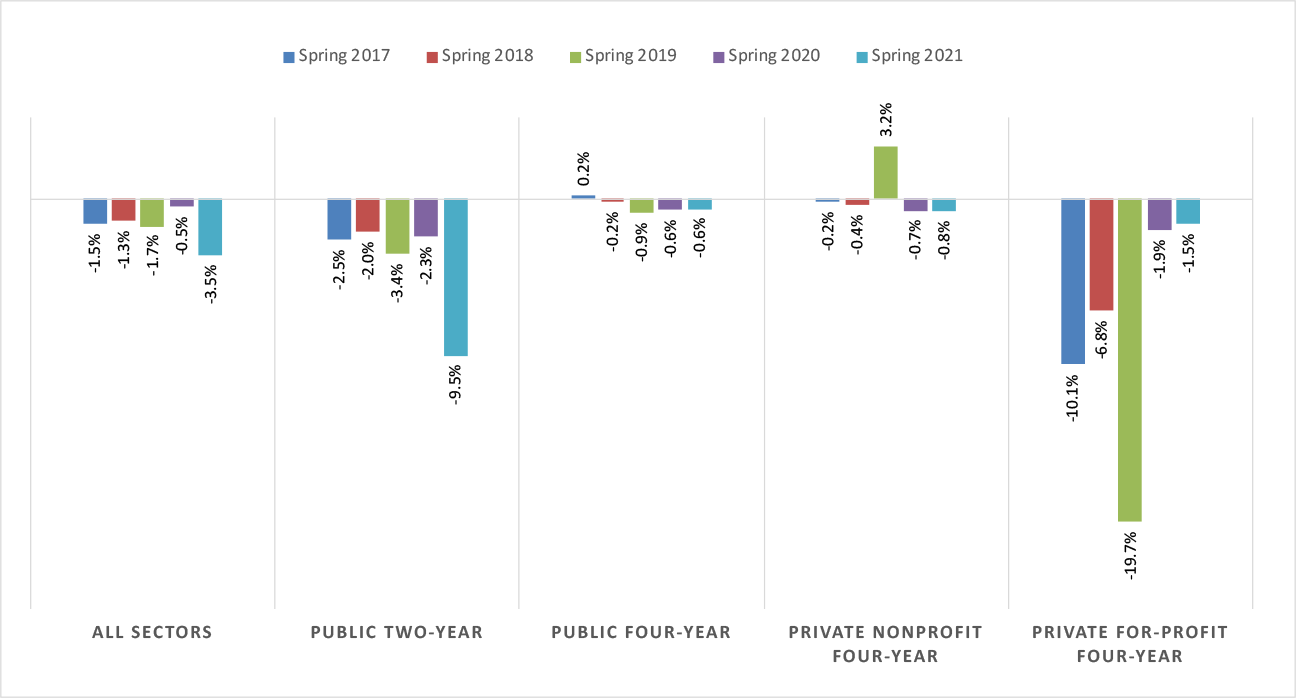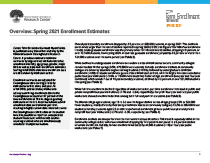 The Current Term Enrollment Estimates (CTEE) report series is published every December and May to provide the most current national enrollment estimates by institutional sector, enrollment intensity, age group, gender, major field as well as state-level enrollment estimates.
As with the previous reports, the Spring 2021 CTEE provides estimated postsecondary enrollment numbers based on the Clearinghouse universe of institutions, after accounting for data coverage rates. This differs from the Stay Informed report series that is designed to quantify the immediate effects of COVID-19 by analyzing year-over-year percentage change in unadjusted, preliminary data for fixed panels of institutions that reported data in the same month each year across all comparison years.
The estimated enrollment numbers presented in the CTEE report may differ from the results of the Stay Informed reports due to the difference in methodology and institution coverage.