Current Term Enrollment Estimates
Overall postsecondary enrollments declined 2.5 percent in fall 2020, nearly twice the rate of enrollment decline reported in fall 2019. Undergraduate enrollment was the primary driver for this decline, decreasing 3.6 percent or over 560,200 students from 2019.
Most notable is the public two-year sector, which suffered the most from enrollment decline this fall while all other major institutional sectors had more positive enrollment outcomes than they did last fall. Public college enrollment (two-year and four-year combined), which enrolls 7 out of 10 postsecondary students, declined by 4 percent or nearly 530,000 students this fall, mainly due to decreases at public two-year institutions.
A 13.1 percent drop in freshman enrollment (or over 327,500 students) from last fall is unprecedented. Sharp declines at public two-year institutions (over 207,200 students, 21% decrease) contributed the most to the decline, falling at a rate almost 20 times higher than the prior year's decline (pre-pandemic).
March 2021 Update – Table 9 in the Appendix now includes state enrollment broken out by institution sector.
Percent Change in Enrollment from Previous Year by Institutional Sector: 2016 to 2020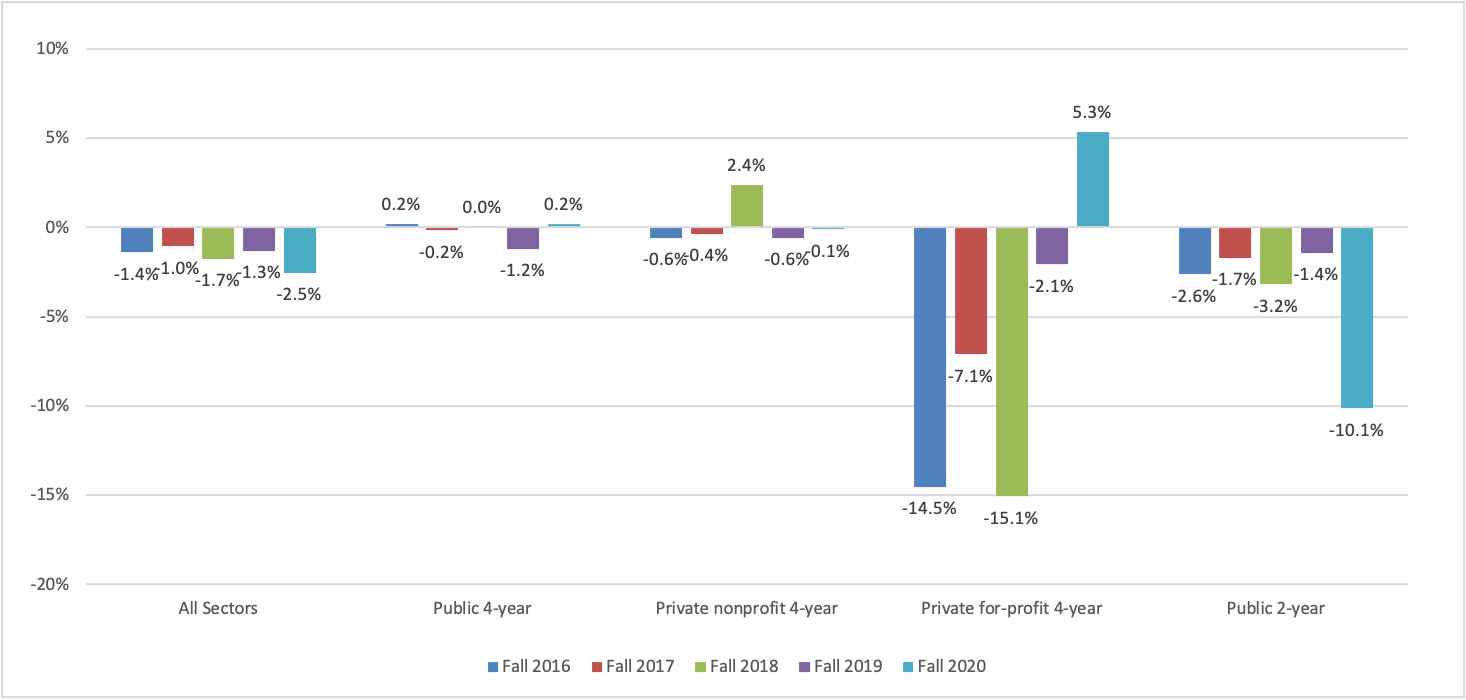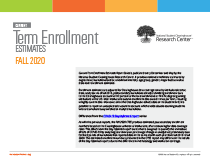 The Current Term Enrollment Estimates (CTEE) report series is published every December and May to provides the most current national enrollment estimates by institutional sector, enrollment intensity, age group, gender, major field as well as state-level enrollment estimates.
As with the previous reports, the Fall 2020 CTEE provides estimated postsecondary enrollment numbers based on the Clearinghouse universe of institutions, after accounting for data coverage rates. This differs from the Stay Informed report series that is designed to quantify the immediate effects of COVID-19 by analyzing year-over-year percentage change in unadjusted, preliminary data for fixed panels of institutions that reported data in the same month each year from fall 2018 to fall 2020.
The estimated enrollment numbers presented in the CTEE report may differ from the results of the Stay Informed reports due to the difference in methodology and institution coverage.