Spring 2020 Current Term Enrollment Estimates
With New Data Submitted in April and May 2020
How are students responding to the campus shutdowns and online-only classes amid COVID-19? Which students, and which institutions, are most affected?
The latest data shows that the pandemic crisis does not appear to have had any major effect on students' enrollment statuses during the spring term, regardless of demographic characteristics or institution types.
However, there were early signs of broader impacts that are underway. Intra-term changes (reduced enrollment intensity, withdrawals, or leaves of absence) peaked later than in previous years, that is, after the shutdowns. Data also reveals the emergence of small but concerning racial/ethnic patterns.
Most Students Stayed Enrolled Through the End of the Spring Term
Navigate details for different institutions and students using the tabs at the top of the dashboard.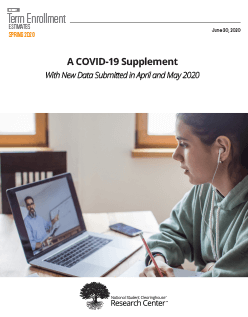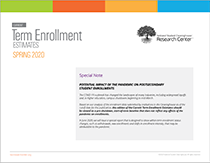 Current Term Enrollment Estimates report series provides national and state-level estimates for the current-term enrollment headcount. National enrollment estimates are further broken out by institutional sector, enrollment intensity, age group, gender, and major field. In this edition, the average age for different student groups is newly added.