Current Term Enrollment Estimates
Community college enrollment grew slightly this spring (up 0.5%, 22,000 students from spring 2022), after large declines in the previous two years. A growing number of younger students, primarily dual enrolled high school students and freshmen, contributed to the uptick in community college enrollment. Undergraduates at public and private nonprofit four-year institutions are still declining but at slower rates (-0.5% and -0.2%, respectively).
After pandemic-driven declines began to level off last fall, overall undergraduate enrollment remained stable for the spring term as well (-0.2%, -25,000 students). In comparison, graduate-level enrollment is faring more poorly (-2.2%, -68,000 students from spring 2022), eroding pandemic-associated gains. Total postsecondary enrollment remains well below pre-pandemic levels, down about 1.09 million students overall and about 1.16 million undergraduates alone, compared to spring 2020.
Freshmen grew 9.2 percent from spring 2022, building on a similar increase reported last year. Percent increases in spring freshmen are based on a far smaller scale than fall, however. Community colleges account for the majority of spring freshmen (53.9%) and had the largest increases of any sector (+12.4%). The community college freshman class is now 7.0 percent larger than spring 2020 levels.
Undergraduate-level students are shifting the types of credentials they pursue, with enrollments in bachelor's degree programs falling more steeply than associate's (-1.4%, -114,000 students versus -0.4%, -15,000 students) and other undergraduate credentials showing enrollment growth (+4.8%, +104,000 students). Graduate-level enrollment drops are almost entirely due to losses in master's programs (-57,000 students).
The report is accompanied by a data appendix for download, detailing enrollment by major field and state-level enrollment by institution sector.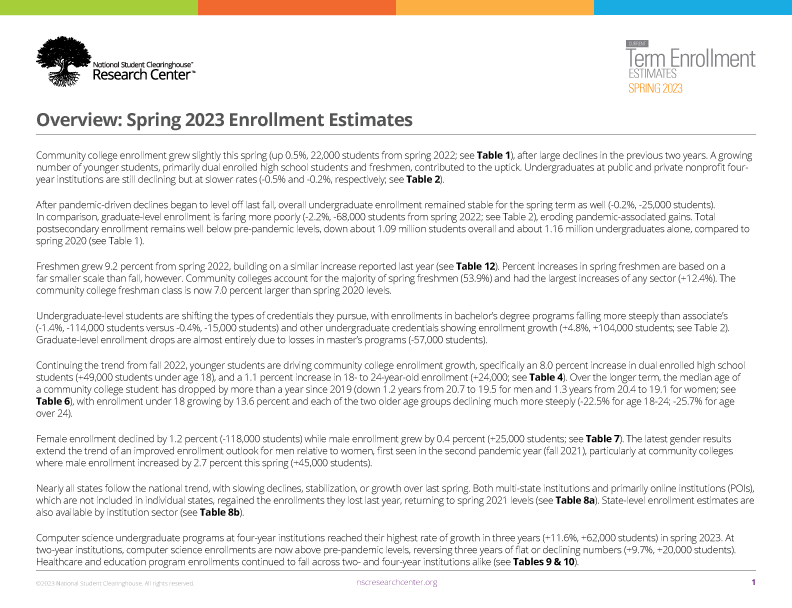 Percent Change in Enrollment from Previous Year by Institutional Sector: 2019 to 2023
Current Term Enrollment Estimates (CTEE) series is published every January and May. It provides national enrollment estimates by credential type, institutional sector, enrollment intensity, age group, gender, major field as well as state-level enrollment estimates. Starting in fall 2020, state-level enrollment data are also shown by institution sector.
Enrollment estimates are adjusted for Clearinghouse data coverage rates by institutional sector, state, and year. This differs from the Stay Informed report series which is designed to quantify the effects of COVID-19 by analyzing year-over-year percent change in unadjusted preliminary data for fixed panels of institutions that reported data in the same month each year across all comparison years.
Enrollment estimates may differ between the CTEE and the Stay Informed reports due to the difference in methodology and institution coverage. Postsecondary institutions actively submitting enrollment data to the Clearinghouse account for 97 percent of the total enrollments at Title IV, degree-granting institutions in the U.S.
Past editions of the Spring CTEE report omitted students without valid identifiers in the Clearinghouse's data. We have included these students in the current 2023 edition and previously published results going back to 2019 have been re-estimated (see additional details in the Methodological Notes section of the full report).