Current Term Enrollment Estimates
Enrollment declines continued to worsen this spring. Total postsecondary enrollment fell to 16.2 million this spring, marking a one-year decline of 4.1 percent or 685,000 students. Enrollment declined this spring at both undergraduate and graduate levels. Following a 3.5 percent drop last spring, postsecondary institutions have lost nearly 1.3 million students since spring 2020.
Undergraduate enrollment accounted for most of the decline, dropping 4.7 percent this spring or over 662,000 students from spring 2021. As a result, the undergraduate student body is now 9.4 percent or nearly 1.4 million students smaller than before the pandemic.
Public institutions suffered the brunt of enrollment declines this spring, losing 604,000 students (-5.0% from a year ago). Community colleges accounted for more than half of these losses this spring (351,000 students) and have lost over 827,000 students since the start of the pandemic.
There were over 462,000 fewer women students (-4.6%) this spring, more than doubling the losses experienced the previous year, resulting in a two-year total decline of 665,000 women enrollments.
A special analysis of the spring freshmen highlights distinctive pandemic-related enrollment trends. Nearly 340,000 students started college for the first time this spring, an increase of 4.2 percent from spring 2021. However, the growth this spring was not enough to return community college freshman enrollment to pre-pandemic levels, with the current freshmen numbers still running 7.9 percent (17,000 students) below spring 2020's levels.
Percent Change in Enrollment from Previous Year by Institutional Sector: 2018 to 2022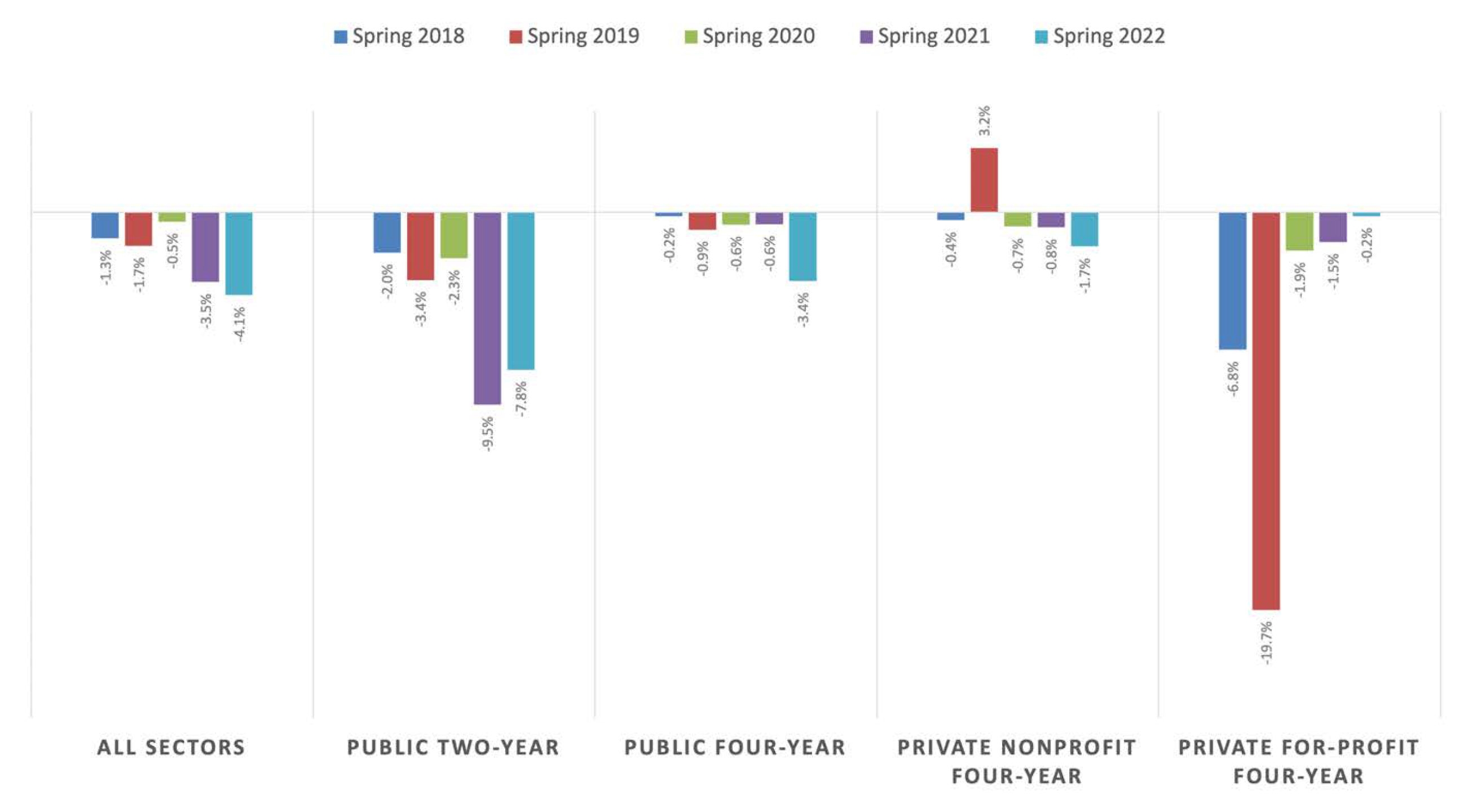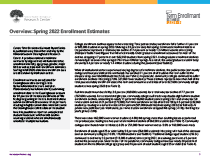 The CTEE report series is published every December and May to provide the most current national enrollment estimates by institutional sector, enrollment intensity, age group, gender, major field as well as state-level enrollment estimates.
The CTEE reports provide estimated postsecondary enrollment numbers based on the Clearinghouse universe of institutions, after accounting for data coverage rates. This differs from the Stay Informed report series that is designed to quantify the immediate effects of COVID-19 by analyzing year-over-year percentage change in unadjusted, preliminary data for fixed panels of institutions that reported data in the same month each year across all comparison years.
The estimated enrollment numbers presented in the CTEE report may differ from the results of the Stay Informed reports due to the difference in methodology and institution coverage.