Some College, No Credential Student Outcomes
Annual Progress Report – Academic Year 2021/22
As of July 2021, the Some College, No Credential (SCNC) population has reached 40.4 million, up 1.4 million from 39.0 million in the previous year. A lack of re-enrollment and 2.3 million new SCNC students (recent stop-outs) drove this large growth. All 50 states and D.C. experienced growth.
All SCNC outcome indicators (re-enrollment, completion, and perseverance) declined from the previous year. During the latest academic year 2021/22, over 864,000 SCNC students re-enrolled, 53,300 students completed their first-ever undergraduate credential the same year they re-enrolled, and 508,700 re-enrollees from the previous year persevered into their second year. These represent one-year declines of nearly 80,000 re-enrollees, 7,000 completers, and 23,100 perseverers.
Re-engaging with the SCNC population has been a priority for many states with an established postsecondary attainment goal. To succeed in bringing them back into higher education, state and institutional leaders need accurate and timely information about the current SCNC population, their re-re-enrollment, and subsequent progress, which is the focus of this annual progress reporting of SCNC students. This annual report series was developed with support from Lumina Foundation.
Latest data suggests that there is an increasingly missed opportunity for states and institutions to re-engage with SCNC students even as the SCNC population is growing, but potential completers and recent stop-outs may be a promising group to pursue with more focus to meet attainment goals.
The Some College, No Credential (SCNC) report series seeks to understand the educational trajectories of millions of U.S. adults who left postsecondary education without receiving a postsecondary credential and are no longer enrolled. As the fourth in series, this report identifies the levels of opportunity within each state for re-engaging SCNC students in the postsecondary attainment pipeline by tracking SCNC student outcomes annually: "Re-Enrollment" after stop-out, completion of "First Credential," and "Perseverance" as indicated by continuous enrollment beyond first re-enrollment.
Highlights
The SCNC population rose to 40.4 million as of July 2021. This large one-year growth of 3.6 percent or 1.4 million is due to a lack of re-enrollment among the 39 million previously identified SCNC students and the 2.3 million new SCNC students (recent stop-outs). Approximately 2.9 million (or 7.3% of the SCNC population) are "potential completers" who have already made at least two years' worth of academic progress up until their last enrollment.

Most SCNC students were younger than 35 at last enrollment. Potential completers and recent stop-outs were relatively younger, with nearly a quarter of recent stop-outs under 20 (24.6%) and potential completers primarily in their early 20s (55.6%).

Community colleges are the most common type of institution of last enrollment, re-enrollment, and first credential attainment for SCNC students.

Compared to the previous year, fewer SCNC students re-enrolled (864,800, -8.4%), earned a credential the same year they re-enrolled (53,300, -11.8%), or persevered into their second year of re-enrollment (508,700, -4.3%). The annual re-enrollment rate fell from 2.4 to 2.1 percent and the completion rate within a year of re-enrolling fell from 6.4 to 6.2 percent.

Potential completers and recent stop-outs were more likely to re-enroll (6.1% and 9.4%, respectively) and to complete a credential within a year after re-enrolling (11.6% and 7.1%, respectively).

All regions experienced declines in completers within a year of re-enrolling, though 11 states saw slight growth. A larger share of completers earned a certificate this year (+7.1 percentage points, 42.1%). Certificates are most prevalent in the Midwest (50.6%), while bachelor's degrees are prevalent in the Northeast (43.8%).

When we track over a two-year period after re-enrolling, 15.4 percent or 145,900 of the 944,200 re-enrollees in AY 2020/21 earned their first ever credential: 6.4 percent (60,500) earned in their first year of re-enrollment and 9.0 percent (85,400) in their second year of re-enrollment.

Black SCNC students were less likely to earn a bachelor's degree within one year of re-enrolling (22.8% of Black completers) compared to the national average of 25.7 percent. However, the gap disappeared for potential completers, with the share of bachelor's degree earners among all Black completers on par with the national average (38.4% vs. 38.8%).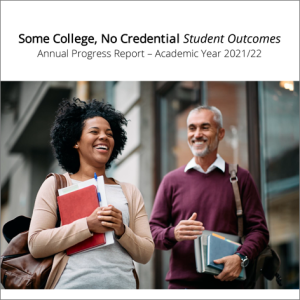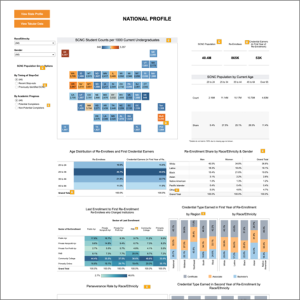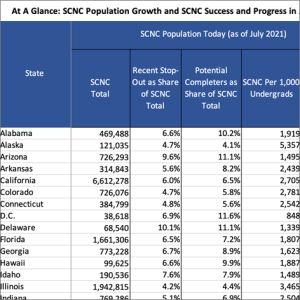 Spring 2024 – Annual Progress Report Academic Year 2022/23