Some College, No Credential Student Outcomes
Annual Progress Report – Academic Year 2020/21
In July 2020, the Some College, No Credential (SCNC) population has reached 39 million, up 3.1 million from the 36 million SCNC population previously reported. A combination of net growth (1.9 million) and methodological enhancements contributed to the 3.1 million increase. Forty-eight states and D.C. had a net growth.
Despite the COVID-19 pandemic, nearly one million SCNC students re-enrolled during the academic year 2020/21, and over 60,000 students earned their first-ever postsecondary credential (including bachelor's degree earners that comprised nearly one-third). Also, tracking re-enrollees for a two-year period after re-enrolling, 61.1 percent of those who re-enrolled in 2019/20 either persevered into the second year or attained a credential within a year of re-enrolling.  
Enabling SCNC students to finish a postsecondary credential brings personal and societal benefits, which are recognized by the many states that have established postsecondary attainment goals. But high college costs, inaccessibility, and the currently strong labor market have kept low-skilled workers out of higher education. If these trends continue, a growing number of U.S. workers lacking education credentials risk being left behind in the twenty-first century economy. At the same time, most colleges are still reeling from historic enrollment declines during the pandemic, suggesting that the continued health of higher education institutions, and their ability to meet the needs of future students, may depend on their success at re-engaging SCNC students today, which brings increased importance to a focus on the SCNC population.
The Some College, No Credential (SCNC) report series seeks to understand the educational trajectories of millions of U.S. adults who left postsecondary education without receiving a postsecondary credential and are no longer enrolled. As the third in the series, this report identifies the levels of opportunity within each state for re-engaging SCNC students in the postsecondary attainment pipeline by tracking SCNC student outcomes annually: "Re-Enrollment" after stop-out, completion of "First Credential," and "Perseverance" as indicated by continuous enrollment beyond first re-enrollment.
Highlights
The number of SCNC students rose to 39 million as of July 2020. Forty-eight states and D.C. experienced a net growth.
California, Texas, New York, and Illinois account for more than a third of the nation's SCNC students. However, Alaska shows the largest number of SCNC students per 1,000 currently enrolled undergraduates among all states.
During the academic year 2020/21, 944,200 SCNC students re-enrolled and 60,400 students earned their first-ever postsecondary credential. An additional 531,700 students were still enrolled after re-enrolling the previous year. (These outcomes reference SCNC students aged 18 to 64.)
About 62 percent of the 944,200 students changed institutions upon re-enrolling, and those who did change institutions also commonly crossed institution sectors (67%). Re-enrolling in a community college after last attending a community college was the most common pathway for SCNC re-enrollees (363,400 students, 38.5%).
Seventy percent of the 60,400 completers obtained their credential from a public institution (two- or four-year). Private nonprofit four-year institutions had the highest perseverance rates (64.8%), while community colleges had the lowest (50.2%).
Women outnumbered men in re-enrollment, credential earning, and perseverance. The share of re-enrollees among minority women was substantially higher than men (63.5% versus 34.6%).
Associate degrees were the most common credential earned by Latinx SCNC students (42.5%), whereas Black students were most likely to have completed a certificate (42.7%). Asian and White students persevered at a higher rate than other groups.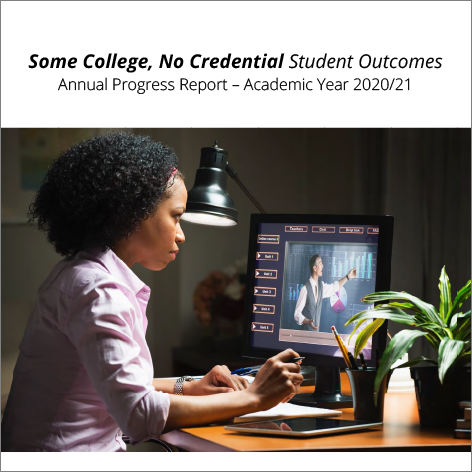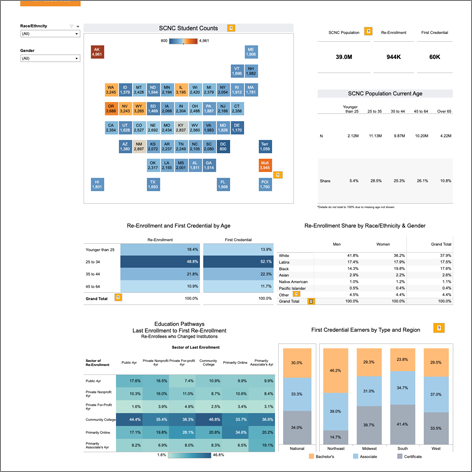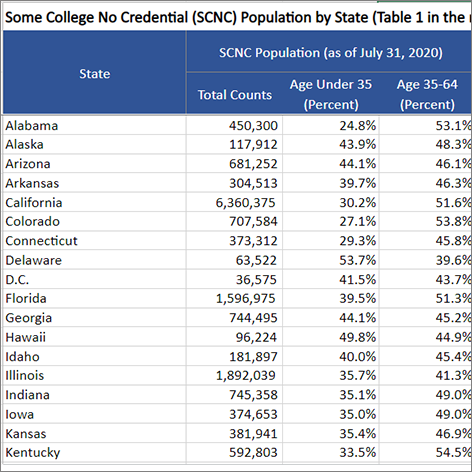 Spring 2023 – Annual Progress Report Academic Year 2021/22