A Redesign of the COVID-19 Transfer, Mobility, and Progress and Tracking Transfer Series
Despite ongoing recovery efforts of the higher education community to regain pre-pandemic normalcy, lingering COVID-19 impacts continue to make navigating transfer options difficult as never before. In particular, community colleges are the most affected sector of higher education during the pandemic with unprecedented declines in freshmen, continuing student enrollments, adult learners, and transfer-in enrollments, which had a ripple effect on overall transfer enrollment across higher education sectors.
This new report series was created with the urgent need for timely information in mind, to help educational leaders and policymakers address enduring enrollment impacts from the pandemic. It aims to better serve the education community with new, timely, and detailed data that are only available through the Clearinghouse. These include postsecondary participation, mobility, and progress among economically disadvantaged students, using a new experimental measure of students' income background. It also includes data on disparities in pandemic recovery across differing student and institutional characteristics and early success indicators for the recent freshman classes at community colleges.
The new report series was created with support from the Institute of Education Sciences, U.S. Department of Education, for the expanded analyses on the pandemic recovery for community colleges and the Ascendium Education Group for student income analyses. The opinions expressed in this report are those of the authors and do not represent the views of the Institute or the U.S. Department of Education, nor Ascendium Education.
Coming out of the COVID-19 pandemic, this new report series highlights the disparities in pandemic recovery. It details the transfer enrollment and pathways for the fall of 2022 and beyond by student demographics and institutional characteristics, in addition to early outcomes for pandemic-impacted community college entering cohorts. A new experimental section on student income provides insights to how closely postsecondary transfer pathways track students' socioeconomic circumstances before and after the pandemic began.
Transfer and Progress Report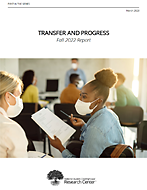 Highlights
Fall transfer enrollment continues to drop in fall 2022, but at a slower pace than the previous year. The number of transfer students is decreasing at a higher rate than non-transfer students.
Upward transfer enrollment fell further in fall 2022 while reverse and lateral transfer began to rise. Upward transfer accounted for all of the fall 2022's decline in transfer enrollment. Upward transfer deteriorated during the pandemic for students at all income levels.
With the upward transfer decline continuing from fall 2021, baccalaureate degree programs appear increasingly out of reach for community college students, particularly those enrolled in urban and suburban community colleges, and in transfer-focused community colleges.
Transfer pathways to highly selective public flagship and private institutions are dominated by students in the top 20 percent of U.S. household income.
Transfer increased for the first time during the pandemic among students returning from a stop-out (+5.4% or +26,800). Primarily online institutions accounted for nearly 40 percent of this growth.
Six-year baccalaureate degree attainment rates improved for community college starters transferring to four-year institutions even during their pandemic-impacted 5th and 6th years of enrollment.
Navigate details for different institutions and students using the tabs at the top of the dashboard.
Upcoming Reports
Fall 2023
Early 2024
Fall 2024
Early 2025