Transfer, Mobility, and Progress
National Student Clearinghouse Research Center's Update on Transfer Students
COVID-19's resurgence in late 2020, coupled with its disproportionate economic and health impacts on disadvantaged populations in the U.S. made navigating traditional transfer options even more difficult. While many four-year colleges expressed the need for facilitating transfer in an effort to maintain enrollment and improve diversity amidst the pandemic, the scope and impact of the efforts have proved to be limited. Our fall 2020 reporting in this series shows that student mobility declined at all institution types, particularly among Black and Latinx students.
Recognizing the urgency of COVID-19's impact on students and institutions, the Research Center disseminates rapid response information and context for the education community and individual learners seeking to understand how the pandemic is changing transfer pathways across higher education through summer 2022. The transfer pathways considered are defined broadly to include upward, lateral, and reverse transfer.
Informed by these data, campus, state, and national leaders will be better able to adapt and plan in the months and years ahead to deliver educational opportunities for students they serve, particularly the most vulnerable student populations. This series is created with support from Ascendium Education Group and ECMC Foundation.
As the fifth in the series, this report is the first comprehensive annual reporting designed to assess the effects of the pandemic on student transfer during the entire academic year. The report focuses on the 2.1 million undergraduate students who transferred to a college other than their last enrolled institution between July 2020 and June 2021, a period reflecting the pandemic's full-blown impact on postsecondary students and institutions. Key findings are shown in three areas — upward transfer pathways, persistence post-transfer, and the transfer trends at HBCUs and HSIs.
Academic Year 2020-21
Research Report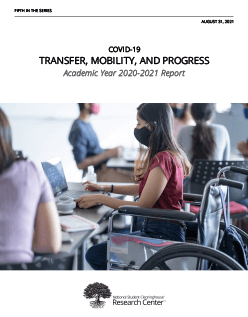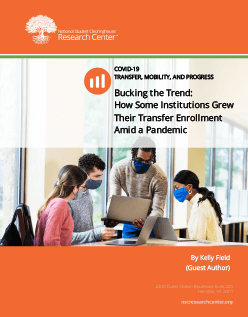 Academic Year 2020-21 Highlights
Higher education lost about 191,500 transfer students, nearly three times last year's losses (-69,300). While every pathway of transfer suffered declines, the rate of decline was not the same. Upward transfers, moving from two-year to four-year colleges, held up relatively well, with only about 11,900 student losses (or -1.3%). Pandemic-driven losses were more notable in fall 2020. In fact, upward transfers increased in spring 2021.
Disparities in upward transfer mobility increased during the pandemic year. Asian and Latinx upward transfers grew (+5.9% and +1.4%, respectively), but Black and Native American upward transfers fell further (-6.1% and -4.1%, respectively) while White students showed a decline consistent with the previous year's (-4.4%).
Only highly selective institutions expanded their total transfer enrollment throughout the entire year, thanks to an unusually large one-year growth in upward transfer (10.3%) across all student groups, irrespective of gender, race, and ethnicity, or transferring within states or into different states.
Patterns of upward transfer mobility along institutional selectivity, gender, and race and ethnicity shifted over the course of the academic year, most notably changing from highly selective colleges leading the growth of upward transfers in fall 2020, to marked increases in Latinx upward transfers in spring 2021 that were more concentrated at less competitive institutions.
As upward transfer inflows grew at highly selective colleges and a few leading primarily online institutions, the persistence rate of transfers to the subsequent term appears to have suffered.
Hispanic-Serving Institutions (HSIs) had substantial transfer student losses this year (-70,400 students, -11.8%), while Historically Black Colleges and Universities remained largely unaffected. Both saw post-transfer persistence rates falling due to the pandemic, except that HSIs made a small gain in the latter part of the year. Following national patterns, declines in mobility at these institutions were largely driven by men.
Bucking the Trend: How Some Institutions Grew Their Transfer Enrollment Amid a Pandemic
Kelly Field spoke with a dozen four-year colleges that had a growing number of students transferring in from a two-year college during the pandemic even as numbers were declining nationally. 
Upcoming Reports
FALL 2021
December 2021
SPRING 2022
May 2022
FINAL SPECIAL REPORT
Summer 2022