Transfer, Mobility, and Progress
National Student Clearinghouse Research Center's Update on Transfer Students
Current discussions in higher education regarding the effects of COVID-19 have been primarily shaped by prognostications, in the absence of hard facts of the situation nationally. In the tumultuous climate currently facing higher education, there is widespread support for addressing longstanding concerns about equity. College students who intended to transfer may have their plans disrupted, while those who did not may suddenly need to change course. These disruptions may be greatest for learners from low-income backgrounds, rural communities, or communities of color, considering racial/ethnic disparities indicated in our recent report.
Recognizing the urgency of COVID-19's impact on students and institutions, the Research Center disseminates rapid response information and context for the education community and individual learners seeking to understand how the pandemic is changing transfer pathways across higher education over the next two years. The transfer pathways considered are defined broadly to include upward, lateral, and reverse transfer.
Informed by these data, campus, state, and national leaders will be better able to adapt and plan in the months and years ahead to deliver educational opportunities for students they serve, particularly the most vulnerable student populations. This series is created with support from Ascendium Education Group and ECMC Foundation.
As the second in the series, the current report paints a more complete picture of the fall 2020 student transfer patterns that are attributable to the effects of COVID-19. With more colleges reporting as of November 19, 2020, this follow-up issue updates the results from the first look report that depicted student mobility as of September 24, 2020.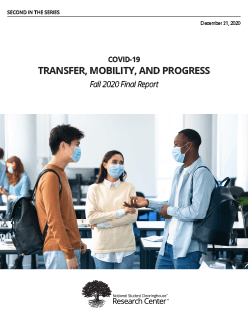 Final Fall 2020 Report Highlights
Fall transfer student enrollment fell 8.1 percent over last year, more than triple the drop in non-transfer students this fall (-2.4%).
Student mobility fell in all transfer pathways. Reverse transfers decreased the most, 19.4 percent, followed by lateral transfers (-12.6%) and upward transfers (-0.7%).
Four-year colleges experienced relatively smaller declines in transfer enrollment as well as overall enrollment during the pandemic.
Black and Hispanic transfer students have been impacted the most, particularly at community colleges, whereas Asian students made gains in the four-year college sector.
Male student mobility declined sharply during the pandemic, regardless of age.
While fewer students re-enrolled this fall after a stop-out, more opted for primarily online institutions this fall than they did pre-pandemic.
Student Transfer and Mobility in Fall 2020 Compared to Fall 2019
Navigate details for different institutions and students using the tabs at the top of the dashboard.
Upcoming Reports
SPRING 2021
March 30, 2021
May 27, 2021
AY 2020-21
July 2021
FALL 2021
October 2021
December 2021
SPRING 2022
May 2022
December 2021
FINAL SPECIAL REPORT
Summer 2022