Transfer, Mobility, and Progress
National Student Clearinghouse Research Center's Update on Transfer Students
COVID-19's resurgence in late 2020, coupled with its disproportionate economic and health impacts on disadvantaged populations in the U.S. made navigating traditional transfer options even more difficult. While many four-year colleges expressed the need for facilitating transfer in an effort to maintain enrollment and improve diversity amidst the pandemic, the scope and impact of the efforts have proved to be limited. Our fall 2020 reporting in this series shows that student mobility declined at all institution types, particularly among Black and Latinx students.
Recognizing the urgency of COVID-19's impact on students and institutions, the Research Center disseminates rapid response information and context for the education community and individual learners seeking to understand how the pandemic is changing transfer pathways across higher education over the next two years. The transfer pathways considered are defined broadly to include upward, lateral, and reverse transfer.
Informed by these data, campus, state, and national leaders will be better able to adapt and plan in the months and years ahead to deliver educational opportunities for students they serve, particularly the most vulnerable student populations. This series is created with support from Ascendium Education Group and ECMC Foundation.
As the third in the series, the current report is a first look into the spring 2021 student transfer patterns that are attributable to the effects of COVID-19. With 74 percent of colleges reporting as of February 25, 2021, data represents 8.8 million undergraduate students (including 532,000 transfer students) two months into the first spring term affected by the pandemic. Reported results will be updated with more data later in the spring.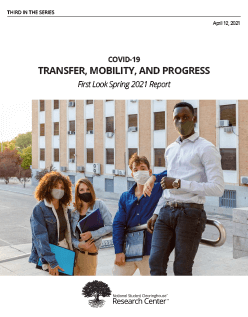 First Look Spring 2021 Report Highlights
Two months into the spring term, transfer enrollment fell 7.9 percent overall this year, with the largest drop in community colleges (-15.2%).
The decline in transfer enrollment was 3.8 times larger than the pre-pandemic rate of decline, and non-transfer enrollment decline was 3.6 times larger.
Upward transfer was the only transfer pathway to increase this spring over pre-pandemic levels (+3%). Both reverse and lateral transfer declined sharply (-21% and -9.2%).
Latinx transfer enrollment currently shows the strongest growth in the public four-year sector.
Gender disparities grew regardless of age. Male student mobility declined more than females, especially in upward transfer.
Transfer declined for continuing students at twice the rate of returning students (-10.2% and -4.9%, respectively), reflecting a ripple effect of last fall's enrollment shortfalls.
Student Transfer and Mobility in Spring 2021 Compared to Spring 2020
Navigate details for different data years and students using the tabs at the top of the dashboard.
Upcoming Reports
SPRING 2021
June 2021
AY 2020-21
August 2021
FALL 2021
October 2021
December 2021
SPRING 2022
May 2022
FINAL SPECIAL REPORT
Summer 2022