Transfer, Mobility, and Progress
National Student Clearinghouse Research Center's Update on Transfer Students
COVID-19's resurgence in late 2020, coupled with its disproportionate economic and health impacts on disadvantaged populations in the U.S. made navigating traditional transfer options even more difficult. While many four-year colleges expressed the need for facilitating transfer in an effort to maintain enrollment and improve diversity amidst the pandemic, the scope and impact of the efforts have proved to be limited. Our fall 2020 reporting in this series shows that student mobility declined at all institution types, particularly among Black and Latinx students.
Recognizing the urgency of COVID-19's impact on students and institutions, the Research Center disseminates rapid response information and context for the education community and individual learners seeking to understand how the pandemic is changing transfer pathways across higher education through summer 2022. The transfer pathways considered are defined broadly to include upward, lateral, and reverse transfer.
Informed by these data, campus, state, and national leaders will be better able to adapt and plan in the months and years ahead to deliver educational opportunities for students they serve, particularly the most vulnerable student populations. This series is created with support from Ascendium Education Group and ECMC Foundation.
As the fourth in the series, this report is a final look into the spring 2021 student transfer patterns that are attributable to the effects of COVID-19. With 94 percent of colleges reporting as of April 22, 2021, data represents 11.3 million undergraduate students, including 737,000 transfer students. We will issue a special report in summer 2021 based on the full academic year 2020-21.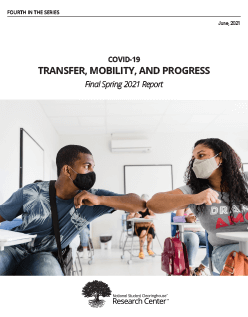 Final Look Spring 2021 Report Highlights
Transfer enrollment fell 10 percent overall this spring, the largest year-over-year decline observed during the pandemic. Non-transfer enrollment also declined but not as steeply (-6.5%).
All transfer pathways continue to be affected by the pandemic. Both reverse and lateral transfer fell sharply (-18% and -12.6%, respectively). Upward transfer was the only pathway to increase (+1.5% versus -5.5% last spring).
Transfer declined the most for traditional college-age students ages 18-24 (-13.6%) and least for those 30 and older (-2.5%).
Transfer enrollment at community colleges continues to be the hardest hit during the pandemic (-16.3%) while public four-year colleges have been least affected among all sectors (-1.5%).
White, Black, Latinx, and Asian transfer students all fared better at public four-year colleges but worsened at community colleges compared to their pre-pandemic transfer trends.
Student Transfer and Mobility in Spring 2021 Compared to Spring 2020
Navigate details for different data years and students using the tabs at the top of the dashboard.
Upcoming Reports
SPECIAL REPORT AY 2020-21
August 2021
FALL 2021
October 2021
December 2021
SPRING 2022
May 2022
FINAL SPECIAL REPORT
Summer 2022