Completing College
National and State Reports
Updated with State-Level Trends​
The national college completion rates continue to rise. The six-year and eight-year college completion rates have reached new highs, 60 percent and 62 percent, respectively.
As the eighth in the series, the national report presents both the national six-year completion outcomes for the fall 2013 entering student cohort and the national eight-year results for the fall 2011 beginning student cohort, along with historical trends. New analyses of major fields at graduation are added for the first time.
The state-level completion outcomes for the fall 2013 entering student cohort largely correspond to the patterns found in the national report. Most states saw steady, across-the-board gains in overall completion rates. Completion rate disparities among the states narrowed, while nearly every state trended upward. Students starting at community colleges made stronger gains than public four-year starters, and some states improved completion outcomes for racial/ethnic minorities at higher rates than overall.
The Completing College report series provides a comprehensive overview of postsecondary completion trends nationally and by state. For all students who enter postsecondary education for the first time each year, it examines the diverse pathways the student traversed toward completion, as well as a degree or certificate completion rate within six and eight years of enrolling.
The completion rates account for all students who enter postsecondary education for the first time each year, enrolling full-time or part-time at two-year or four-year institutions, and completing at any U.S. degree-granting institution. The results include those who complete after transfer, not just completions at the starting institution. Thus, the report more fully captures today's students' diverse pathways to success, that increasingly involve mobility across institutions and across state lines, re-entry after stop-out, and changes in enrollment intensities.
National Highlights
The national college completion rate continues to rise, albeit more slowly in recent years.
First-time entering college students are becoming increasingly traditional in demographics and education pathways.
An additional five percent of the 2011 entering student cohort completed during their seventh and eighth years.
More progress made among older students generally, and Hispanics in particular.
Racial/ethnic and gender disparities exist in major choice at completion.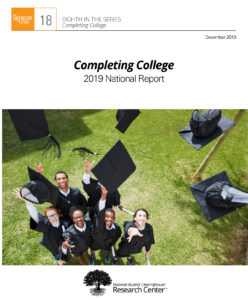 Past Completions Reports
National Supplements
State-level Highlights
New trend data reveals a steady rise in the overall completion rate across states and a narrowing of cross-state disparities.
While public college completion rates are up generally, those for community college starters appear to be gaining more ground.
In two states, both Hispanic and African American completion rates improved at higher rates than overall.
First-time beginning students at community colleges are becoming younger.